Affordability of drinking water, sanitation and hygiene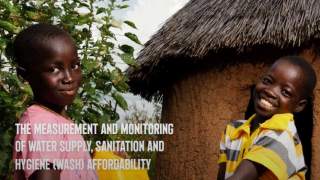 The human rights to water and sanitation place obligations on States to ensure that services are affordable. Affordability implies that payment for services should not present a barrier to access or prevent people from meeting other basic human needs. This concern is reflected in SDG target 6.1, which calls for universal and equitable access to safe and affordable drinking water for all.
While affordability is an important consideration for all households, regardless of service level, there is no commonly agreed-upon way to measure it.
In 2016 WHO and UNICEF convened a multi-stakeholder group of experts and organizations to address WASH affordability, under the umbrella of the WHO/UNICEF Joint Monitoring Programme and the UN-Water Global Analysis and Assessment of Sanitation and DrinkingWater (GLAAS). The initiative was designed to answer key questions: first, how can affordability be concretely defined; second, how can WASH affordability be practically measured using available data; and third, how can WASH affordability be monitored both nationally and globally?
In May 2021 UNICEF and WHO published a report on the Measurement and Monitoring of Water Supply, Sanitation and Hygiene (WASH) Affordability A Missing Element of Monitoring of Sustainable Development Goal (SDG) Targets 6.1 and 6.2 outlining recommendations for monitoring the affordability of WASH services:
1. Strengthen data sets and data analyses of income and expenditure surveys.
2. Build and strengthen global databases of WASH tariffs and costs.
3. Strengthen the use of the UN-Water GLAAS survey to collect and analyse policy indicators  relevant for affordability assessment.
4. Reach a broad consensus on the setting of a threshold or range for an affordable WASH service, preferably with reference to broader poverty assessments and affordability of other essential goods and services.
5. Conduct more in-depth country case studies to explore how WASH affordability can be better understood using available data sets, contributing to the implementation of enhanced national policies.
Read the full report and summary report here:
https://washdata.org/report/unicef-who-2021-affordability-wash-services-full
https://washdata.org/report/unicef-who-2021-affordability-wash-services-summary