Affordability of drinking water, sanitation and hygiene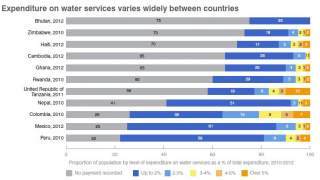 The human rights to water and sanitation place obligations on States to ensure that services are affordable. This concern is reflected in SDG target 6.1, which calls for universal and equitable access to safe and affordable drinking water for all. Affordability implies that payment for services should not present a barrier to access or prevent people from meeting other basic human needs.
While affordability is an important consideration for all households, regardless of service level, there is no commonly agreed-upon way to measure it. Existing data often do not capture the full costs of accessing services, especially capital costs such as toilet construction or network connection fees. 
The JMP is collaborating with the World Bank, academics and others to develop and test indicators that will enable more systematic and consistent monitoring of affordability in the future. 
Using household income and expenditure surveys initial estimates of household expenditure on water, sanitation and hygiene have been prepared for around 50 countries in collaboration with the World Bank Data Group. The initial assessment shows that some populations are spending a significant part of their household budgets on water, sanitation and hygiene services. Key advantages of this approach is that expenditure data can be disaggregrated by the types of water and sanitation service used by household characteristics such as wealth and residence. 
The JMP plans to develop guidance on questions to include in income and expenditure surveys, with a view to strengthening the collection of information on the costs associated with water, sanitation and hygiene. Information on tariffs and subsidies received by households needs to be systematically collected to supplement the information from household surveys. As more and better data become available, the JMP will benchmark expenditures between and within countries and facilitate dialogue among WASH sector stakeholders on how to define and measure 'affordability'.