Menstrual health refers to 'a state of complete physical, mental, and social well-being and not merely the absence of disease or infirmity, in relation to the menstrual cycle'.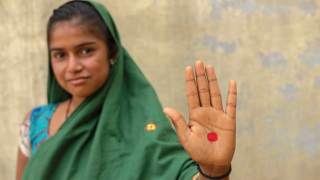 The emerging global indicators for menstrual health
A detailed definition of menstrual health, including access to information, facilities, and supportive environments, was agreed upon by the Global Menstrual Collective through a multi-stage process and published in 2021.
While the definition of menstrual health is multi-faceted and spans different sectors, new questions related to menstrual health indicators have been progressively included in household surveys used for national and global water, sanitation and hygiene monitoring. These indicators can be grouped into the following four areas:
Awareness of menstruation before menarche (first menstruation).
Use of menstrual materials to capture and contain menstrual blood, such as sanitary pads, cloth, tampons, or cups. These can also be grouped into single-use and reusable materials.
Access to a private place to wash and change while at home.
Participation in activities during menstruation, such as school, work and social activities.
Monitoring SDG targets related to menstrual health
Menstrual health is central to achieving multiple Sustainable Development Goals (SDGs) and fulfilling basic human rights. It is directly linked to SDG target 6.2, which aims to achieve 'access to adequate and equitable sanitation and hygiene for all… paying special attention to the needs of women and girls…', and in recent years, water, sanitation and hygiene programmes have dedicated more attention to menstrual health needs.
The JMP has expanded its database to incorporate harmonized menstrual health indicators, including a new tab in the JMP Country Files. The JMP 2023 progress update on WASH in households included a dedicated section on menstrual health and an Annex summarising available national data on menstrual health for 53 countries. 
Enhancing data collection
National data on these emerging indicators are typically collected through household surveys that include a women's questionnaire, with a range of questions for women and girls age 15 to 49 who have recently menstruated.
In addition to the 1.9 billion people in this group, many people start menstruating before the age of 15 and there are also transgender, intersex, and non-binary people who experience a menstrual cycle. While menstruation can be a taboo topic, the importance of menstrual health is increasingly recognized, and advances have been made both in terms of norms and monitoring.
Emerging national data on each of these indicators have been compiled and harmonized across countries and surveys, to the extent possible, to support cross-country comparison. The data available on the JMP website and progress update are based on the most recent available surveys. The JMP does not currently use a service ladder for menstrual health, as norms and standards relating to menstrual health and associated water, sanitation, and hygiene needs are still evolving. Further work is needed to refine these indicators and evaluate if others may be more relevant.
During 2022, the JMP convened experts to seek technical recommendations on updating the JMP core questions for monitoring menstrual health in household surveys, specifically in the questionnaire for individual women. The resulting zero draft of 'Proposed questions on menstrual health for inclusion in household survey questionnaires for individual women' aims to: provide impactful data that can support national policy and programming changes, reflect the new definition of menstrual health, include emerging recommended questions and indicator domains from MH experts, prioritize questions already being used in national surveys and data collection efforts, maintain comparability with previously used questions to support time series data, and optimize the number of questions while ensuring they are clear and simple.
Acknowledgments
The JMP team is grateful to the following menstrual health experts for their review of the menstrual health chapter in the 2021 household report: Therese Mahon (WaterAid), Bethany Caruso (Emory University), Julie Hennegan (Burnet Institute), Janita Bartell (UNICEF HQ), Marni Sommer (Columbia University), Brooke Yamakoshi (UNICEF EAPRO), Sue Cavill (consultant).