Image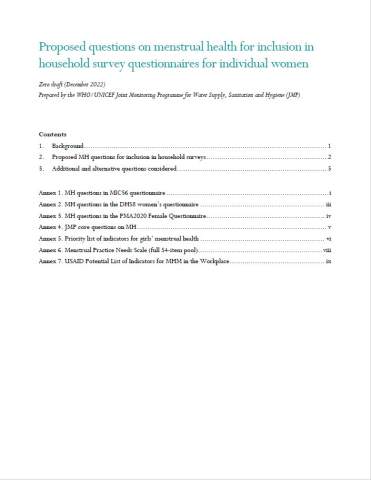 Brief summary
This document presents a set of draft questions which could be included in household surveys to monitor different aspects of menstrual health (MH). 
Report highlights
Many household survey questions on MH already address several elements of the new definition of MH. Data from these surveys have supported global monitoring of MH, with inclusion in country files and reports published by the JMP.
This document is a zero draft of suggested MH questions for inclusion in household surveys, specifically in the questionnaire for individual women. These questions are based on a balance of the following goals:
Provide impactful data that can support national policy and programming changes,
Reflect the new definition of MH, including emerging recommended questions and indicator domains from MH experts,
Prioritize questions already being used in national surveys and data collection efforts,
Maintain comparability with previously used questions to support time series data, and
Optimize the number of questions while ensuring they are clear and simple.
The proposed questions in this document aim to cover the elements from previous surveys while also addressing emerging elements on unmet material needs, knowledge, menstrual pain, and social support which were not previously captured.
Questions are grouped into a small set of proposed core questions, and a longer set of additional and alternative questions.